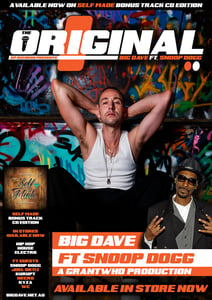 $

35.00
Grab a copy of the "Self Made" bonus track edition CD signed by the big guy plus an A4 album poster!
Nothing is what it seems.
Take a skilled self-taught producer with a dance music back ground and combine his sound with the outspoken yet poetic lyrics of a street level MC.
Throw in guest features from Snoop Dogg, Joell Ortiz (Shady Records/Slaughterhouse), Necro (Psyco+Logical-Records), Kurupt (Tha Dogg Pound), WC (Westside connection) and Kyza (Dented Records).
Then balance it all out with the mastering skills of Sameer Sengupta (Ministry Of Sound) at Studios 301 in Sydney.
The end result?
Big Dave – Self Made.
A cross bred blend of hip hop, electro, house and street culture produced by Grantwho?.
1) "We Are KP" - Big Dave FT Kitty B.
2) "Hey Girl" - Big Dave FT Joell Ortiz, Kurupt, Deon.
3) "The Good Life" - Big Dave FT Kitty B (Music video out now at kokyprik.com)
4) "Collision" - Big Dave FT Kyza.
5) "They Tried" - Big Dave.
6) "Can't Hold Me" - Big Dave FT Necro, WC.
7) "Officer Down" - Big Dave FT Pug D, Mibs, Eitha, Bishop.
8) "345546" - Big Dave FT Kyza.
9) "Hash Man" - Big Dave FT Kitty B.
10) "Fearless (GO)" - Big Dave.
11) "Play By The Rules" - Big Dave FT Grantwho?.
12) "Clean Cut Kids" - Big Dave FT Bishop.
13) "Run Your Own Life" - Big Dave FT Kitty B.
14) "To The Top" - Big Dave.
15) "It's My Time" - Big Dave FT Kitty B.
16) "Living Dead" - Big Dave.
17) "Dance I Said" - Big Dave.
18) "The Original" - Big Dave FT Snoop Dogg. (Music video out now at kokyprik.com)